Featured Items - Get Started
EXCLUSIVE DISCOUNTS FOR PMU CIRCLE PRO MEMBERS!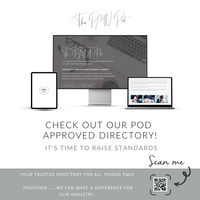 Become an Approved Artist / Trainer
On a mission to raise industry standards and support artists,
The PMU POD is your one stop place for all things Permanent Makeup.
Want to be featured as an approved Artist or Trainer?
Check out our POD Approved directory, featuring a diverse range of artists and educators.

We pride ourselves on our rigorous screening process, ensuring that only the highest quality of professionals and training courses are listed.
View our PMU POD Website