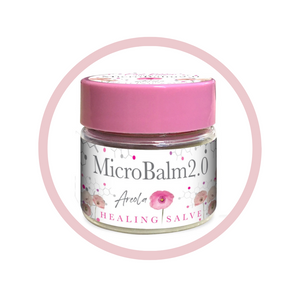 Introducing Membrane Post Care's Areola 2.0 Salve. This is the first salve dedicated to soothe and nourish the delicate skin of a recently re-pigmented areola as well as the sensitive areola of a nursing mother.  Containing the anti-inflammatory and antioxidant properties of yarrow leaf extract, along with other fresh relieving ingredients, this extraordinary salve aids in healing and protecting compromised skin.

Reduces inflammation and promotes healing.

Anti-fungal, anti-bacterial, anti-viral properties.

Aids in blood coagulation (Hemostatic).

Potent Anti-Inflammatory.

Assists in the prevention micro-scarring.

Helps expedite healing traumatised tissue.

Stimulates circulation

No greasy residue.

Highly medicinal.
Directions for use:

Apply as advised by your professional to the traumatised area, 2x/day.  After areola tattoo, wait 6 to 24 hours before the first application to permit the skin to initiate its own healing cascade.  

After breastfeeding, apply immediately to the nipple to soothe, nourish and protect. Ensure the areola is entirely free of any product and/or residue before baby's next feeding.