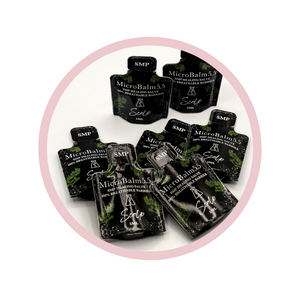 Provide 1-3 pillow packs per scalp session depending on size of area. We recommend opening a new packet every 72hrs. for full head, apply 2x daily.

EVERY DAY USE: MicroBalm 5.5 Scalp is an amazing formulation that addresses and heals all different types of scalp irregularities.
This includes, dryness, eczema, psoriasis, LPP, insect bites, itchy scalp, various rashes, and more.

It is particularly effective for all hair growth therapies, including light therapy and different microneedling procedures.
We recommend applying with clean fingers or a 4x4 gauze to the affected area 1-2x daily for 7-21 days washing your hair and scalp as usual in between uses. 

BEFORE AND AFTER SCALP MICROPIGMENTATION PROCEDURES - MicroBalm 5.5 Scalp is used for every stage of the SMP process.

It provides optimal hydration, thereby creating a soft workable canvas for the artist to deliver the best results.
In addition to optimizing results for micropigmentation treatments, MicroBalm 5.5 Scalp has been found to significantly reduce inflammation with faster healing as well as improving or correcting a wide variety of irregularities based on actual trial case reports from clients worldwide.

Primarily, MicroBalm 5.5 Scalp will sooth and relieve discomfort and inflammation following all SMP sessions.
MicroBalm 5.5 is a healing post-care salve that serves as an important tool for optimizing the outcome and retention of SMP treatments as it is formulated to specifically target and support the unique skin on the scalp. The consistency leaves a non-greasy finish with minimal shine.  

A 100% all natural organic formulation comprised of carefully selected herbs, oils and targeted ingredients from around the world, MicroBalm 5.5 Scalp has curative properties to support the delicate healing process following SMP while maintaining the skin's existing nutrients.
These elements foster the best dermal tissue care and repair while providing a clean and stabilizing breathable barrier. MicroBalm 5.5 Scalp is literal food for the skin.
Its vibrant colour and sweet scent are indicative of the amazing all natural ingredients that are packed into it including the exceptional wound healing properties of arrow root and kombo butter. 

Kombo Butter has been scientifically proven and shown to be astoundingly effective for pain relief and anti-inflammatory management of arthritis and generalized pain, with particular efficacy for the skin.
Individuals who are allergic or who have skin sensitivities tend to always tolerate Kombo butter very well.
With rich anti-oxidant, anti-fungal, and antiseptic properties, Kombo butter improves lipid metabolism and actually stimulates the production of collagen.

As a post-care healing ointment, MicroBalm 5.5 Scalp has been infused with select, fresh, natural and organic ingredients that are known to suppress inflammation and the pain response which aids in calming irritation and redness while soothing the skin.
In addition to having high antibacterial properties, MicroBalm 5.5 Scalp moisturizes but also controls the natural oils on the scalp as it heals while providing ample hydration and antioxidants thus ensuring that all healing and recovery needs are met with one single product.  

We have uniquely crafted the salve to not only be highly effective at healing tissue and reducing the risk of infection, but to also have a pleasing fragrance and consistency with minimal shine for clients concerned about the greasy appearance of a heavy balm on their scalp.
MicroBalm 5.5 Scalp is an integral component of a holistic approach to the healing process thanks to the extraordinary gifts of Mother Nature's garden supported by deep scientific research.

PRE-PROCEDURE and/or  CONSULTATION DIRECTIONS: If a client has significant skin irritation, irregularities or dryness, provide the client with MicroBalm 5.5 Scalp to use 1 week prior and apply daily 1-2x for a healthier a and softer scalp.

PRE-PROCEDURE DIRECTIONS: Apply a thin layer to the scalp area for 5-10 minutes, then remove with MicroTonic. This preparation leads to soft and nourished skin efficient for the implantation process of pigment.